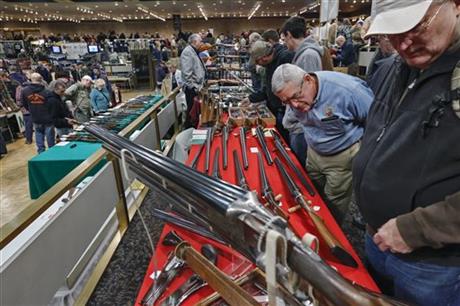 Breitbart
The crowd is largely male, white and over forty. They wear jeans, and t-shirts adorn everything from American flags to the most "politically incorrect" statements you can imagine. One t-shirt dealer tells me that every time he thinks he's "hit a nerve" with one of his shirts, those shirts sell out in a flash. The demand is created instantly. These are shirts that your son or daughter would be sent home from school for wearing.
That's not to classify the crowd as a bunch of "Bubbas", because you find people from every walk of life. Doctors, lawyers, broadcasters are rubbing elbows with mechanics and truck drivers. They all share the same passion for shooting sports.
The crowd is mostly Republican and conservative. Bumper stickers expressing displeasure of the current President are also in vogue. Those with Bill Clinton's name were just changed out, substituting Obama's in early 2009.
Notice the gender and racial balance in that photo. I guess they forgot the usual agenda of trying to portray gun enthusiasts as other than they really are.
And, one can only imagine what some of those t-shirts say, the ones that "hit a nerve" and sell like hot cakes.