Hospitals in the U.S. spent $630 million in 2010 treating the victims of gun violence -- everything from minor gunshot wounds to injuries that required days-long stays -- and public funds provided most of that money. The Medicaid costs of gun violence alone that year amounted to approximately $327 million.
Notably, the report found that the average cost of a hospital visit for a gun violence victim is $14,000 more than that of the average hospital stay,
due to the severity
of the injuries often involved.
Lawmakers could significantly shrink
these costs
by making firearms less widely available, Howell said.
"This is a preventable cost. If more could be done to prevent these firearm incidents, then the cost will go down," Howell said. "Society is paying for this, very few of these people have private insurance."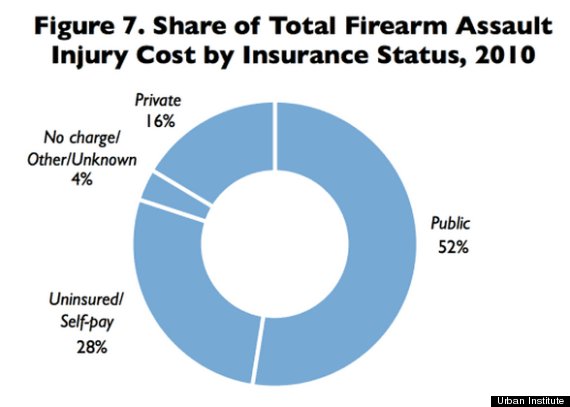 The true economic cost of gun violence is much larger that what hospitals are spending on care. The Centers for Disease Control and Prevention estimated that gun violence deaths cost the U.S. economy
$37 billion and gun injuries $3.7 billion in 2005
, the last year the public health agency conducted an analysis. In addition, taxpayers often end up footing the bill for social services for gun violence victims, as well as building the expensive hospital trauma units needed for their treatment.