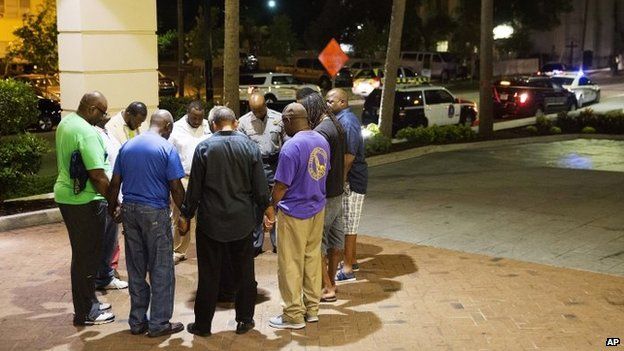 BBC
A shooting has been reported at a historic black church in Charleston in the US state of South Carolina, with multiple casualties feared.
US media said the incident happened on Thursday evening at the Emanuel African Methodist Episcopal Church.
Charleston police later tweeted that they were searching for a white male suspect in his 20s after the shooting at 110 Calhoun Street.
A meeting was going on at the time of the shooting at about 21:00 local time (01:00 GMT Thursday), US media say.
In a tweet, Charleston police wrote: "Suspect in shooting on Calhoun St is a w/m approx 21 slender small build wearing a grey sweat shirt blue jeans timberland boots clean shaven."
A man was later seen being led away by police officers, but it was unclear whether he was the suspected gunman.
"I will say that this is an unspeakable and heartbreaking tragedy in this most historic church," Charleston Mayor Joe Riley was quoted as saying by the Post and Courier newspaper.