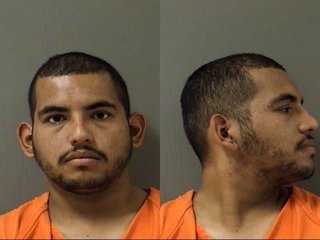 Jesus Deniz
Huffington Post
A man who was stopped along a road on Montana's Crow Indian Reservation gunned down a family who tried to help him Wednesday, killing the couple and wounding their daughter, a relative said.
The FBI confirmed that two people were killed and a third injured by gunfire in Pryor, a town of just over 600 people in southern Montana. A suspect was arrested hours later in Wyoming, FBI spokesman Todd Palmer said, later identified as Jesus Deniz.
Palmer could not say what led to the shooting and did not release details about the victims.
Bryce Hugs, of Pryor, told The Billings Gazette ( http://bit.ly/1H3J5OG ) that his aunt, Tana Shane, drove by a man who had run out of gas just south of town. Shane picked up her husband, Jason, and daughter, Jora, and returned to help, Hugs said.
"(He) killed both of them and then shot the daughter," Hugs told the newspaper. "It grazed her in the head, and when she took off, (he) shot her in the back."