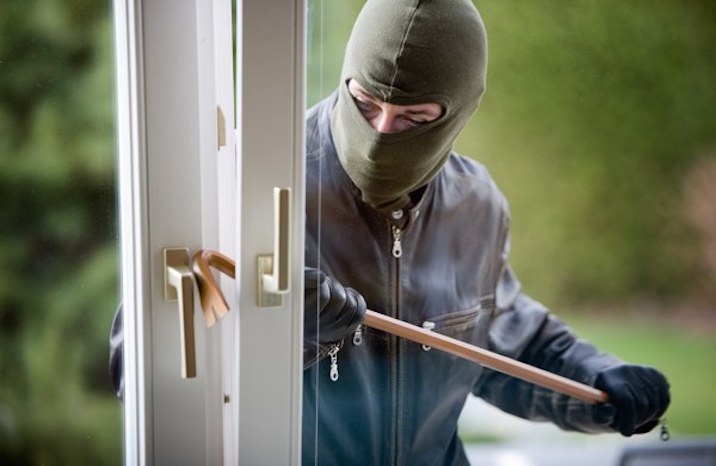 SimpliSafe
3. Unless you are a trained professional, don't grab a weapon. This includes firearms, baseball bats and pepper spray. They all sound like a good idea, but again, we don't know how the burglar will react to seeing an armed person. If they do have a weapon, they may be more likely to use it when they see you have one too. If you use pepper spray in an enclosed space, you and your family will also be affected by the pepper spray. If you use another weapon, such as a firearm and are not a trained professional, you run the risk of hurting yourself or a family member. And when a weapon is in your hand, you also run the risk of arriving police officers mistaking you for the intruder!
4. Escape is choice one. This is when you hark back to your emergency plan. Can you get out of the house from where you are without venturing from your locked room or into a place the burglar could potentially see you? Do it. Out a window, down a fire escape—all good choices. Just remember to alert the 911 operator of your position as you escape the house. Remember, police are on the way—they really do need to know if you, the homeowner, is climbing down a drain pipe. Remember to only escape if you can do so safely—hurting yourself in a panicked leap will put you in an extremely vulnerable position in these few moments before the police arrive. Make sure you have your cell phone and your car keys with you.
5. Hiding in a locked, safe place is choice two. If you can't get out (you're in that apartment we talked about earlier, facing the back of the building and on the sixth floor), gather your family and remain in a locked room or closet. If a lock is not possible, barricade the door as quietly as possible with heavy objects and furniture. Make sure to alert the 911 operator to your location and your actions. How many people are there in the room with you? Is there anyone else in another area of the house that they should be aware of? Make sure you have the cell phone and your car keys with you. Speaking of— - See more at: http://simplisafe.com/blog/what-to-do-if-youre-home-during-a-break-in?