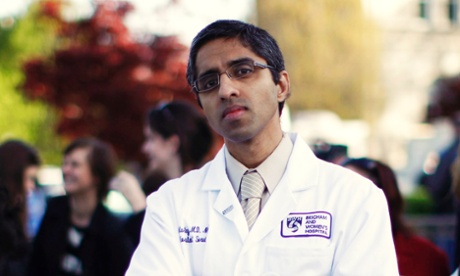 Dr Vivek Murthy is President Obama's nominee to be the next Surgeon General of the United States. Photograph: Jason Reed / Reuters
Only in America's up-is-down, sky-is-green, right-is-wrong discussion about guns would views like those of Vivek Murthy be considered radical. Indeed, the good doctor's views are remarkably similar to those held by a majority of Americans. According to the most recent polls:
So Dr Murthy's views fall within the political mainstream – and are similar to the views of the man who nominated him. Surely that's enough to convince the Senate to confirm him as Surgeon General, right?
In a depressing reminder of the NRA's outsize influence in Washington, an aggressive lobbying campaign by the pro-gun lobby to block Murthy appears to be paying off. Over the weekend, the New York Timesreported that as many as 10 Senate Democrats – many of whom are from red states and running for re-election – were leaning toward voting against him. Of course, every Republican is opposed. The White House, suddenly, is "recalibrating".