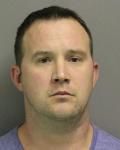 Benjamin Davis
Local news reports
A state trooper was arrested and suspended after he allegedly accidentally shot a vehicle in a campground and hit a man inside it while hunting off-duty, police said.
The man inside the camper suffered a minor bruise to a leg in the Monday morning incident off East Schroon River Road, according to State Police.
Police determined that Benjamin Davis, 37, of Queensbury, fired the shot that went into the camper, and fired a second shot near the camper as well while hunting, police said.
Davis was charged with second-degree reckless endangerment, a misdemeanor, and the violation of discharging a firearm within 500 feet of a building, police said.
He was released pending prosecution in Warrensburg Town Court, and has been suspended as State Police and the state Department of Environmental Conservation investigate the incident. He is a 14-year veteran of the State Police.