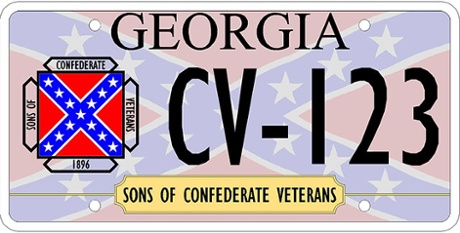 The Guardian
Georgia officials have once again approved a specialty license plate featuring the Confederate battle flag, infuriating civil rights advocates and renewing a debate among those who believe the symbol honors Confederate heritage and those who see it as racially charged.
The Georgia division of the Sons of Confederate Veterans requested the new plate design, and the Georgia Department of Revenue recently approved it. The group's old plate had a small Confederate battle flag. The new one features an additional, larger image in the background that covers the entire plate.
Georgia must be jealous of places like Alabama and Mississippi and is striving to become the most backwards state in the country. This disgraceful initiative is just the latest indicator.
There have been
others
.
The thing about the confederate flag is that it symbolizes everything that's wrong with the country, poor education, high access to guns, beer-drinking inbred rednecks, misogyny, racism, homophobia, xenophobia, creationism and general intolerance.
The confederate flag should be seen with the same shame and embarrassment in America as the swastika is seen in Germany.