From Minnesota again, this time courtesy of the
City Pages
about MN GOP endorsed, pro-gun state legislature candidate Roger Weber:
MNGOP Candidate Roger Weber Literally Sawed Neighbor's Garage In Half [PHOTO]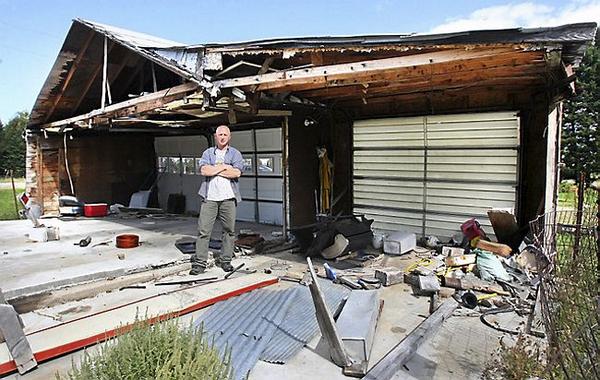 His "Issues" section may be blank, but it's safe to infer Weber is a big backer of chainsaw rights.


Roger Weber, the MNGOP-endorsed challenger for DFL incumbent Carly Melin's northern Minnesota House seat, faces a civil trial this week for sawing his neighbor's rural Nashwauk Township garage in half last year.

Why in God's name would he do such a thing, you ask? Because according to a Forum Communications report, Weber claims the half of the garage he mowed down was built decades ago by his father on land he now owns, but he doesn't want it on his property anymore. Meanwhile, the owner of the other half of the garage, Mark Besemann, acknowledges the property line dispute, but claims Weber acted unreasonably in resolving things with a power saw rather than peaceful negotiations.
Further down, the City Pages makes a passing reference again to the MN GOP endorsed candidate for Supreme Court, Michele L. MacDonald, and to the candidate Weber. The owner of the half-garage: Besemann, however, told Forum such behavior is reflective of a person "that isn't thinking properly." That would seem to apply as well to not only Weber, but MacDonald, and to Oregon candidate Wehby too. It's a fair concern that those who are pro-gun do not make a good case for widespread gun ownership when they stalk people, lie and plagiarize, obstruct justice and drive dangerously, and lie about being police officers (especially if under the influence of alcohol) or if they do erratic things like destroy garages with chain saws rather than seek resolution through the court system.
People who behave erratically, who are dishonest, and who don't 'think properly' demonstrate that they lack the personal qualities for public office, and arguably are not sufficiently responsible or capable of sound decision making relative to gun ownership EITHER.
One last little tidbit from the same City Pages article:
A poll released yesterday found that the incumbent MacDonald is challenging, Justice David Lillehaug, has an 86-point lead over her.
I don't know what candidate Melin's lead is over candidate Weber this time, but in 2012 she beat him by 42 points, 71 to 29% of the vote. I'm guessing with this garage sawing incident, in spite of being a mid-term election, that lead will go up, possibly as high as the Lillehaug lead over MacDonald.