Again reposted from
Penigma
:
Because gun nuts are just so fanciful, you couldn't make them up, and because they live (and sometimes kill) to prove that fact continues stranger than fiction.
In aid of demonstrating that despite their loud and repetitious rhetoric that they live each and every day, safely handling their firearms, in order to protect themselves and the rest of us --- they are who we need protecting from, but they will never admit it, no matter how obvious.
The problem of course is that saying your safe doesn't make it true. Having RECENTLY seen a hog in a certain vicinity is not the same as following safe firearms procedures where you KNOW where the bullet is going, and you KNOW what you are shooting at. Which is why this qualifies for another 'Armed while Old and White, Flabby and Crabby'. 'Minutes before' isn't even close to being good enough to qualify as safe shooting. But these are the guys who loves them their gunz, and the larger, heavier the firepower the better - because they are using guns to cope with their inadequacies - although not very well. This is why not everyone who wants a gun, especially to carry in public, should have one, much less more than one. EVER. Anywhere.
It is not surprising that it is in Florida, the Gunshine state this occurred...
The man in the video at the end is the antithesis of the typical NRA gun loon who is armed while old and white, flabby and crabby; he is the safe, competent, doesn't need a gun to compensate for his deficiencies kind of gun guy.
From the HuffPo News of the Weird
:
Hog Hunter Accidentally Shoots Girlfriend In Florida: Steven Egan Fires At Lisa Simmons
The Huffington Post
| By
Andy Campbell
Posted: 04/23/2012 10:12 am Updated: 04/23/2012 10:12 am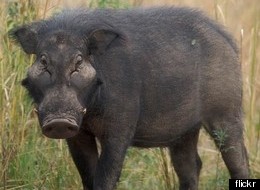 A Florida hunter accidentally shot his girlfriend thinking that she was his target -- a wild hog.
Cops said that Brandon man Steven Egan, 52, was hunting from a tent in Flagler County on Saturday when Egan heard a noise that he thought was similar to that of his prey. He took a shot at it, not realizing his significant other wasn't in the tent with him, according to the
Orlando Sentinel.
The shot sent a .30-caliber rifle bullet through both of 52-year-old Lisa Simmons' legs. Simmons was airlifted to the hospital where she was recovering from surgery on Sunday,
the News-Journal reported.
Egan maintained that he fired in the first place because he had seen a real hog just minutes before the accidental shooting, WFTV reported. No charges were filed.